The most high-tech marine vessel of the world costed $1 billion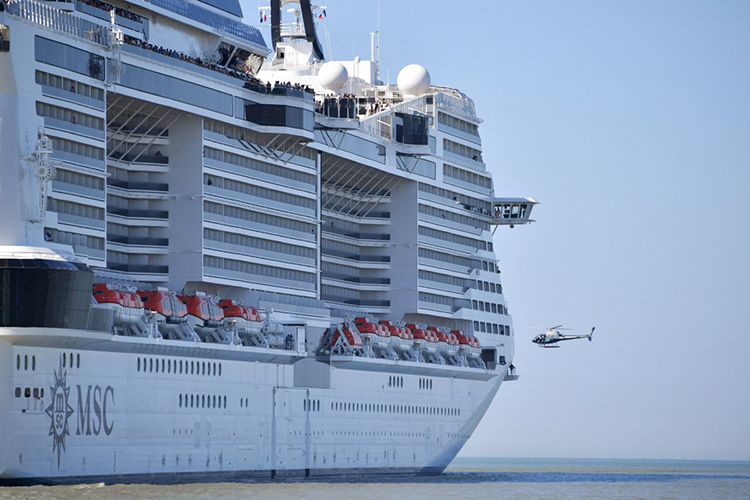 09 June 2017
France has floated out a record-breaking ship: the biggest cruise liner of Europe, MSC Meraviglia, started its first voyage across the Mediterranean.
The liner also has the title of the most high-tech passenger vessel of our times. The creators equipped it with the latest technologies (including VR/AR) for the comfort and entertainment of the guests. The supplier of multimedia equipment is Samsung.
MSC Meraviglia impresses with its size: length - 319 meters, height - 65 meters, the number of decks - 19. It is built at the shipyards of Saint-Nazaire (France) and costs about 1 billion dollars.
The liner is designed for 5714 passengers. It is a real floating city filled with luxury and exquisite entertainment, including those realized with the help of high technologies:
► 5D cinema;
► its own TV studio;
► Formula-1 simulator;
► slot machines hall;
► multimedia screens;
► mirrors with augmented reality.
After getting to the liner, passengers enter a special world, where they do not need keys or wallets. Everyone uses an electronic card and a NFC bracelet - it's more convenient and safer than using their physical analogues. The liner has dozens of interactive terminals, using which it is possible to order food to the cabin, book an excursion, buy tickets for the show, theater or cinema.
One of the most discussed technical novelties of the liner is "virtual fitting rooms". It is a mirror-like screen that work with the augmented reality technology. Customers see themselves in the clothes that VR/AR technology "puts on" them. Digital models of dresses and costumes are created on the basis of a real store assortment.
The liner also has "analog" entertainments: three swimming pools, sports grounds, bowling, fitness, spa, as well as its own theater, a stage for shows and a lot of boutiques, cafes and restaurants.
It is planned that until 2019, MSC Meraviglia will voyage in the Mediterranean. Later, the liner will go to Miami for making cruises on the Caribbean islands.
subscribe to our newsletter